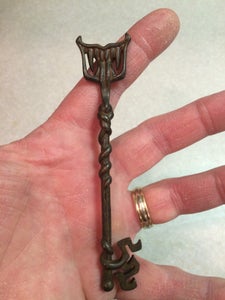 $

25.00
** AVAILABLE ONLINE-ONLY UNTIL JAN. 15. AFTER THAT, THE REMAINDER WILL ONLY BE OFFERED AT CON APPEARANCES THIS YEAR **
SHIPS 2ND QUARTER 2017
This key bites, and it may give you tetanus.
The 2017 Con Exclusive Grindhouse Key is straight out of the pages of Joe Hill and Gabriel Rodriguez's amazing "Locke & Key" published by IDW. This officially licensed replica measures approx. 4.6-inches long.
Cast in rusty iron-plated pewter, it's packed in a printed black velvet bag with a hand numbered tag, one of 250.
Sculpted by Jamie Macfarlane.
Made in the USA.
Not guaranteed to give your enemies lockejaw.