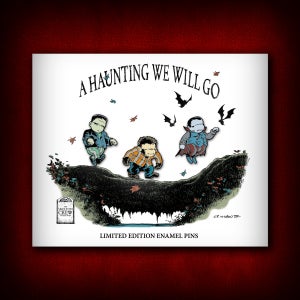 $

25.00
** FREE U.S. SHIPPING THRU 10/4! ORDER TODAY!**
Frighteningly cute.
The Limited Edition "A Haunting We Will Go" enamel pin sets represent the latest collaboration between the scarily talented C.P. Wilson III and The Skelton Crew Collection.
Each set features the adorably stylized soft enamel pin monsters Francis (1.375 inches tall), Louie (1.125 inches tall) and Barney (1.25 inches tall) on a custom backboard designed by Wilson.
They're the perfect October touch for your cap, coat, cape or cardigan AND they're hyper-limited, to just 250 sets.
Grab them before they're all scooped up!
BONUS: For each of the first 50 sets sold, we're donating one "Fly By Night" t-shirt or onesie designed by Wilson, also featuring Barney the vampire, to a Maine shelter for kids in need, in time for Halloween.
Look sharp, do good — it's frighteningly easy.
Made in China. Prototype shown.
Not guaranteed to be the cutest little monsters you've ever seen. . . but awww, who are we kidding? Totally. Are.